Press Release • Biography, Resume, and Awards • History of Gardens of Eagan • Reading Guides
atina (at) organicfarmingworks (dot) com
952-469-1855 farmhouse || 651-454-6188 cell
Click on image to download a high resolution file.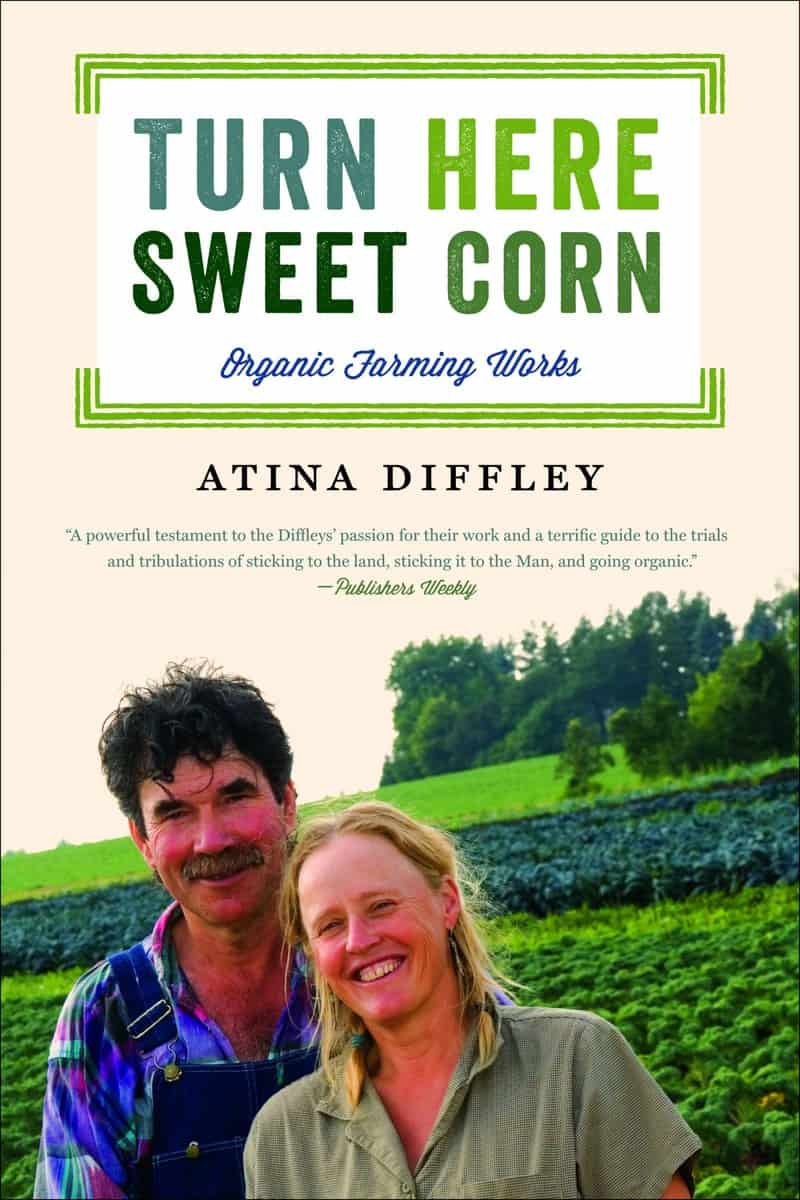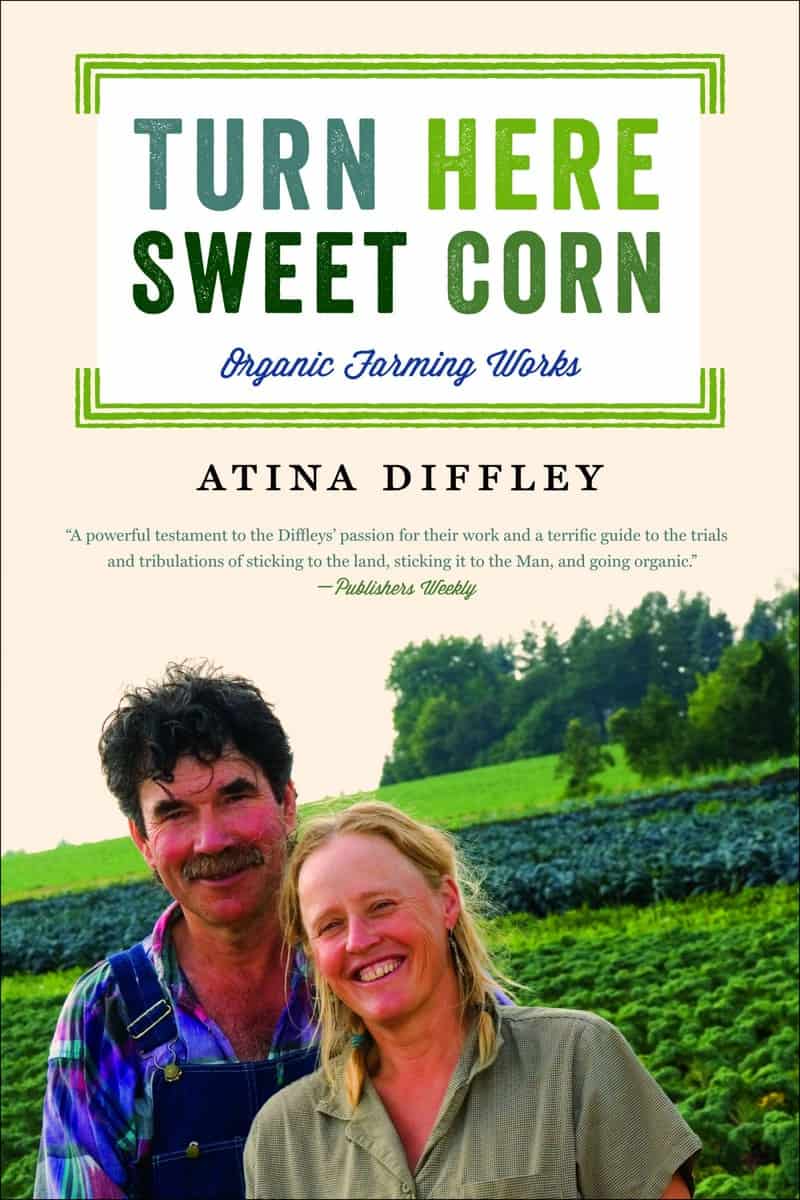 Turn Here Sweet Corn Cover Image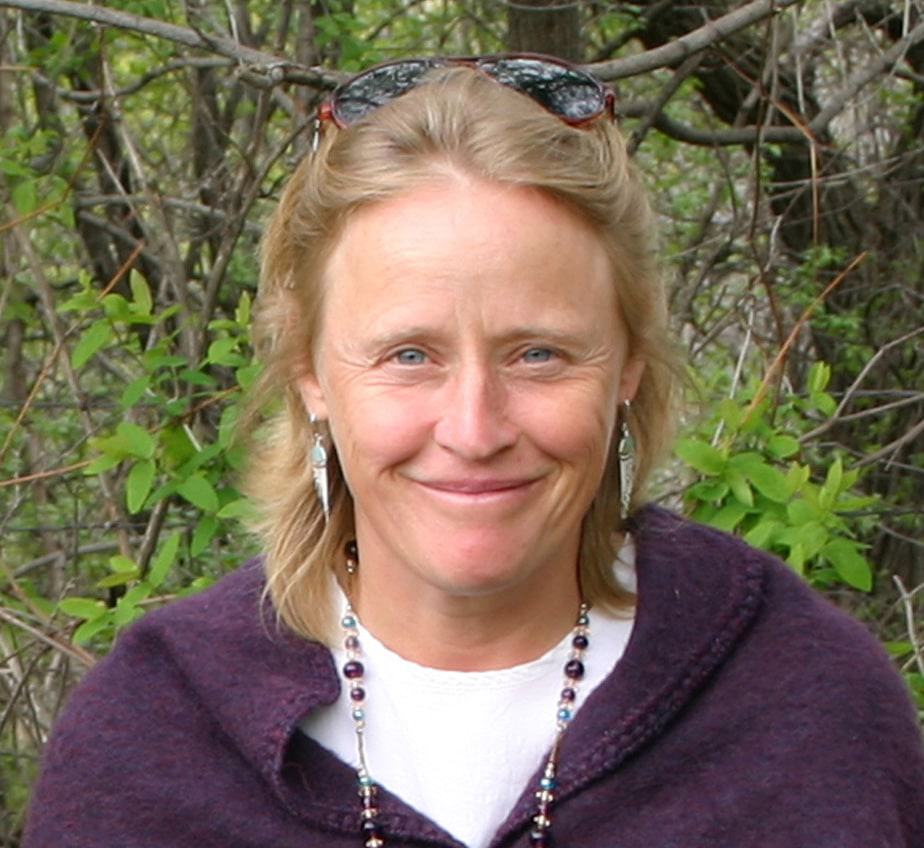 Atina Diffley, author of Turn Here Sweet Corn: Organic Farming Works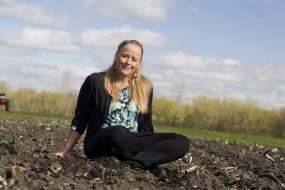 "Soil Sister," Atina Diffley, author of Turn Here Sweet Corn: Organic Farming Works, photo by Laurie Schneider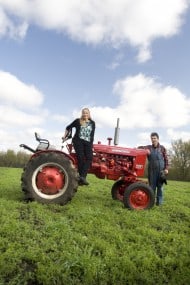 Atina and Martin Diffley with 140 International Tractor, photo by Laurie Schneider
Martin and Atina Diffley in the kale field: "The kale was our ally and expert witness during the MinnCan crude oil pipeline lawsuit dubbed 'Kale Versus Koch, Soil Versus Oil.'" Photograph ©2006 Greg Thompson.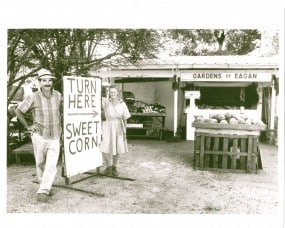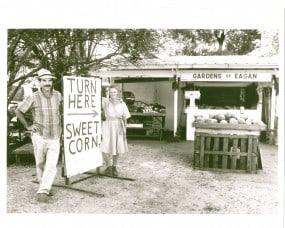 For over three decades, this sign pulled in customers, and Martin and I used "Turn here" as an opening line for conversations about changing how our food is grown. Photograph ©1989 Helen De Michiel, from her video essay Turn Here Sweet Corn.
In 1990, the Gardens of Eagan roadside stand was a lean-to roof attached to the family barbershop and an adjacent walk-in cooler.

The Diffley family land in 1987, taken from the Plains of Abraham overlooking Cottonwood Valley, Bluebird Valley, and the Bee Field; the Big Oak Woods in the background.
Martin and I watch developers' bulldozers and encroaching suburbia alongside sweet corn growing on the Plains of Abraham. Photograph copyright 1990 T. L. Gettings for Rodale Institute.

The Diffley land, after the development and school were built. The farm relocated, but the Gardens of Eagan stand continued on Highway 3. Imagery by Pictometry International Corporation.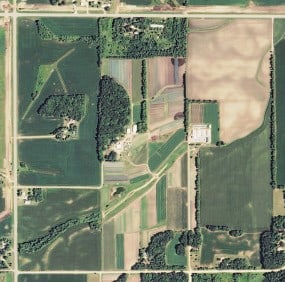 In 2005, the 43 small fields on our new farm produced approximately 2,895,738 food servings. A year later they faced the threat of eminent domain for a crude oil pipeline. Our land is the center one-third of this image. Photograph USDA National Agriculture Imagery Program.
Martin with Laura Frerichs harvest cold-hardy broccoli during an early November storm in 2003.

Broccoli harvest, Meagan O'Brien and Adria Fernandez
Additional Photos From the Diffley Eagan Land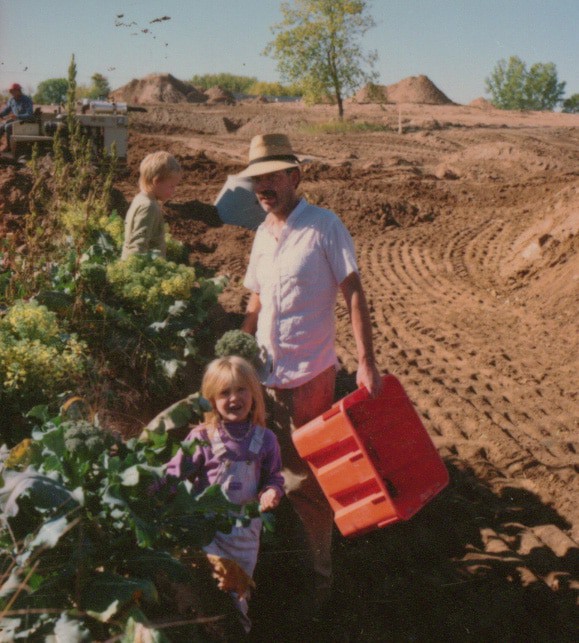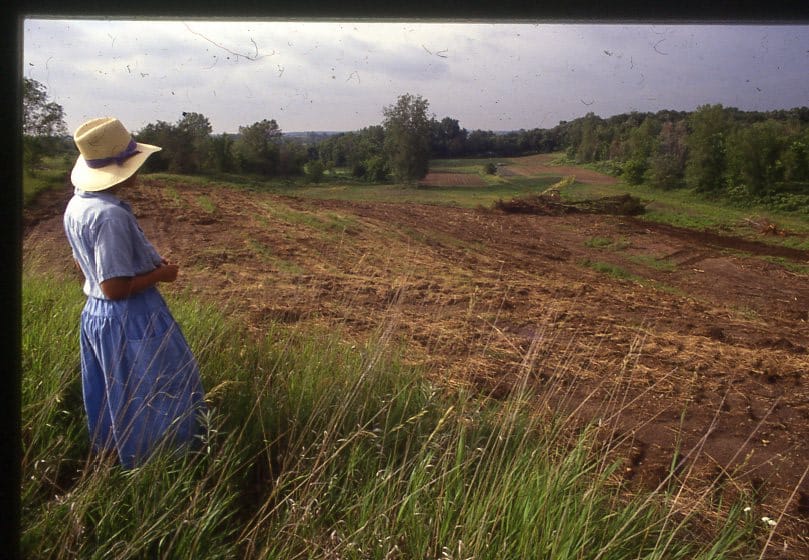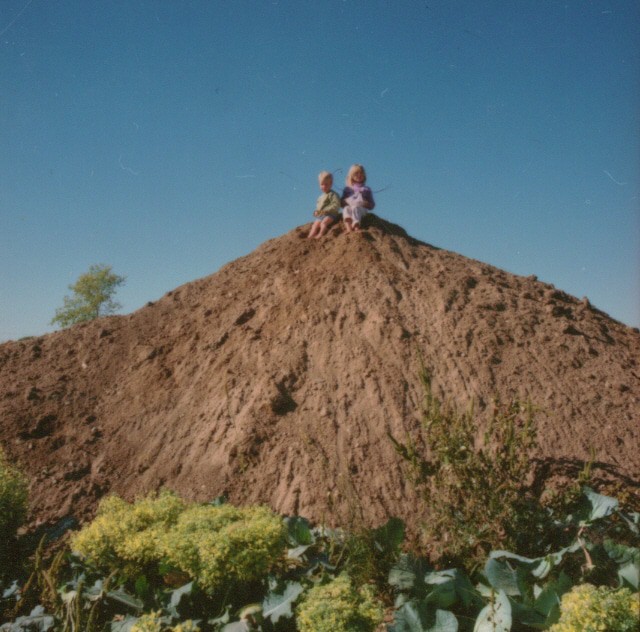 Dawn in the Diffley greenhouse, photo by Dennis Nolan
Atina Diffley serving sweet corn as Esther Ouray watches.
Martin Diffley harvesting green kale.
Atina Diffley and grandson planting cucumbers in the greenhouse. Photo by Greg Thompson
1986 pumpkin harvest. Atina Diffley, Evelyn Kaiser, Martin Diffley with Maize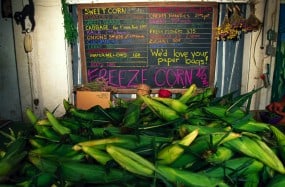 The corn sales table and blackboard were the social and business center of the Diffley's Gardens of Eagan roadside stand. Photograph ©1995 by Dennis Nolan; all rights reserved.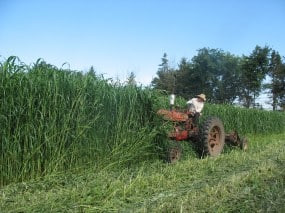 On a Super M, Martin Diffley chops sorghum-sudangrass, adding organic matter to the soil.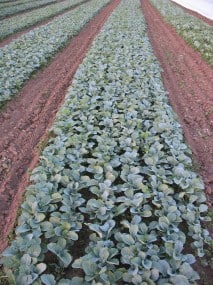 Transplants ready for planting thirty-five days after seeding.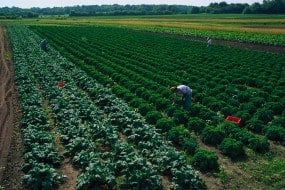 Yellow strips of canola, rye, and vetch provide habitat for beneficial insects that help control pests in this kale field. Photograph ©1995 Dennis Nolan; all rights reserved.
At our harvest party and public hearing energizer, Martin's band, the Pheromones, play "Tequila" while the crowd performs the Corn Dance. Photograph ©2006 Camille Maize Diffley
Do Not Spray sign, in field of spring vetch at the Gardens of Eagan, spring 2006
Photograph ©2006 Greg Thompson
The Diffley homestead on the northeast corner of Diffley and Dodd Roads, in Eagan, Minnesota, was settled in 1855 by Martin's great-grandparents from Ireland. Photograph circa early 1900s.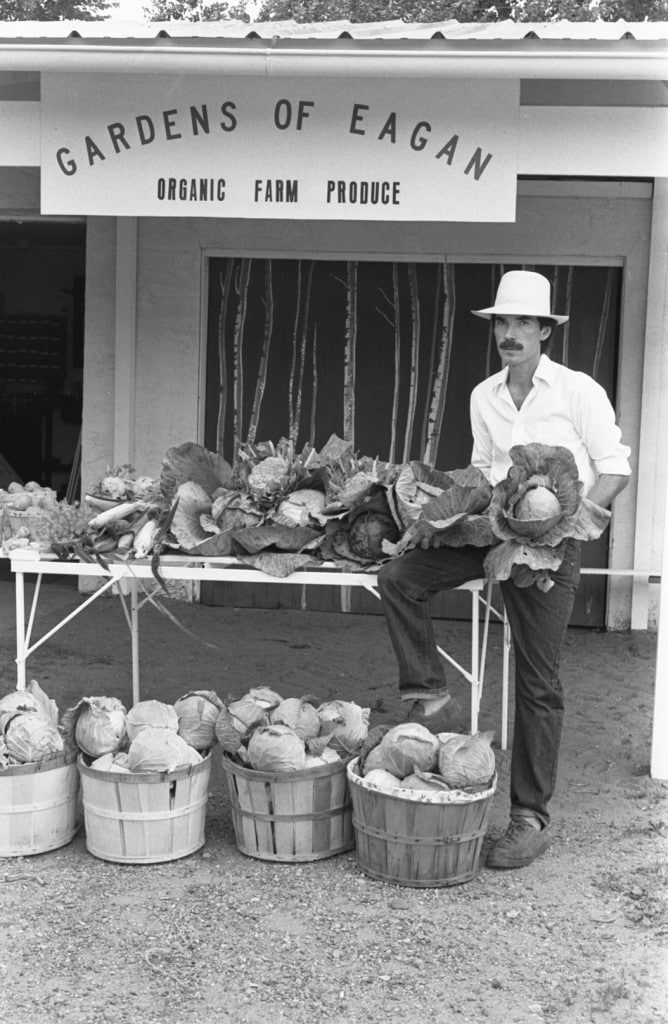 In 1981, Eagan still had a rural community and Martin's roadside stand was called a "community market." Photograph by John Croft, Minneapolis Star Tribune News Negative Collection, Minnesota Historical Society.

Martin on a point of purchase sign used in the food co-ops from 1994 through 2007. Photograph copyright Nick Lethert.
Cabbage and Diffley farmstead, photo by Dennis Nolan